While many of our favorite NFL teams fight for their playoff lives, this week marks the first round of the fantasy football playoffs for many of us. Some of us play for fun, some of us put a pot together for the winners. But let's be honest, if you want to take your fantasy football league to the next level, you have got to get a trophy. Not only does it take the competition to the next level and it also elevates your bragging rights to a new level. So to give you a bit of inspiration here we have included our picks for the best fantasy football trophies.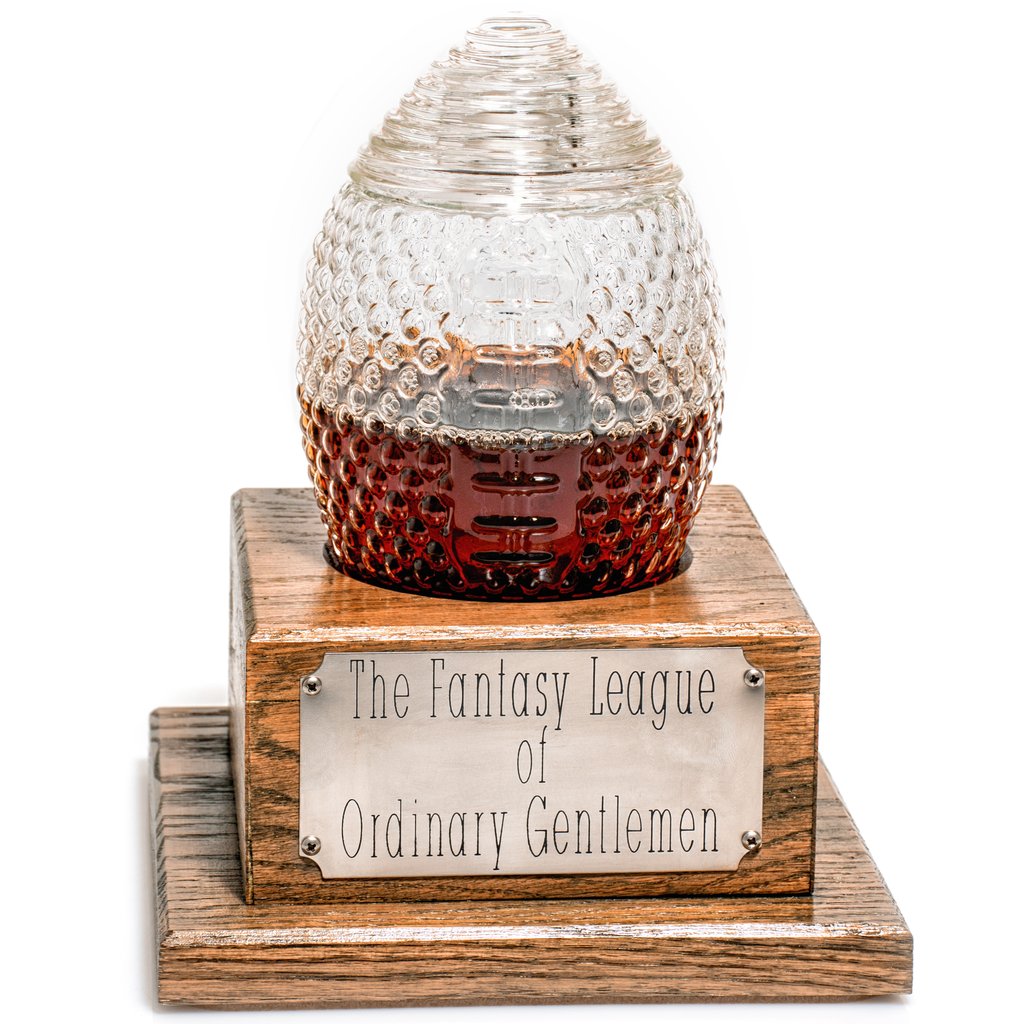 Fantasy Football Decanter by Prestige Decanter
There are trophies, and then there are TROPHIES. Prestige Decanter's trophy is indeed the gift that keeps on giving. Prestige Decanters is notorious for making the best decanters, and their Fantasy Football Decanter is no exception. The wooden display base is handmade of solid oak by master carpenters in Kentucky. The football-shaped decanter holds 1000 ml of your favorite liquor, and sports a ground glass stopper creates a durable, airtight seal to last a lifetime. Air will not mix with the purity of the liquor. The pure essence of the drink is preserved and not evaporated. The decanter comes in three versions: Personal (above), and Perpetual (cover picture), and a version withe the football decanter only HERE. The personal and perpetual can be purchased HERE.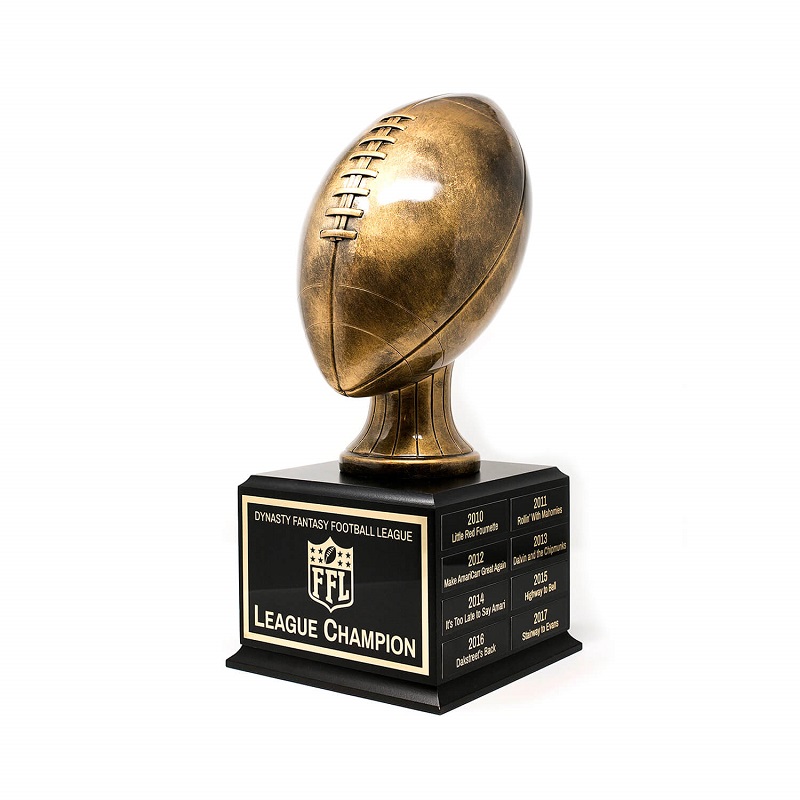 Gold Fantasy Football Championship Trophy by Fantasy Champs
For those looking to go the more traditional route, this one here is a beauty. This golden glory stands 16″ tall and weighs a sturdy 7 pounds. The side of the trophy holds eight lasers engraved, premium metal nameplates to chronicle the history of champions for your league. You can purchase The Fantasy Champs trophyHERE.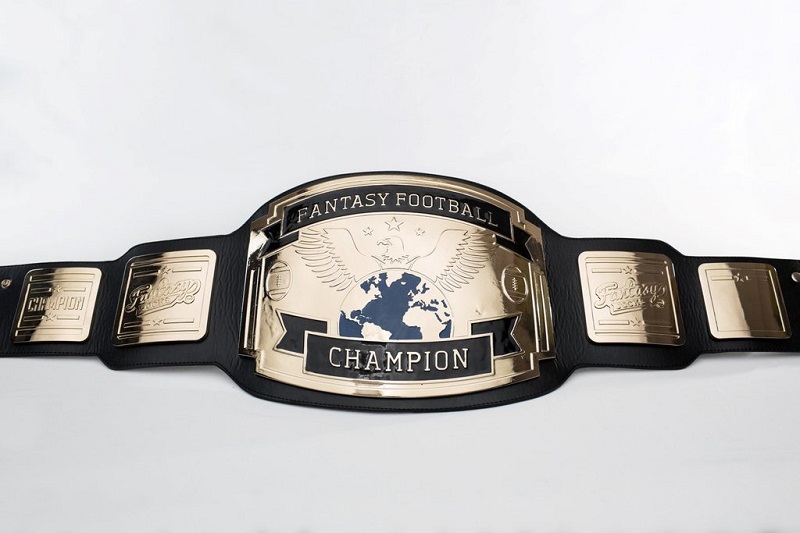 Fantasy Football Championship Belt by Fantasy Jocks
Trophies are great, but they're often sitting in a case or shelf, but if you want to rub it in, you get a belt that you carry around everywhere you go! Okay maybe not everywhere, that would be weird LOL. However, there's nothing like walking into next year's fantasy draft with the championship belt sitting on your shoulder. This 53" belt features four removable plates which you can personalize with custom, laser engraved plates (sold separately). You can find the Fantasy Football Championship Belt HERE.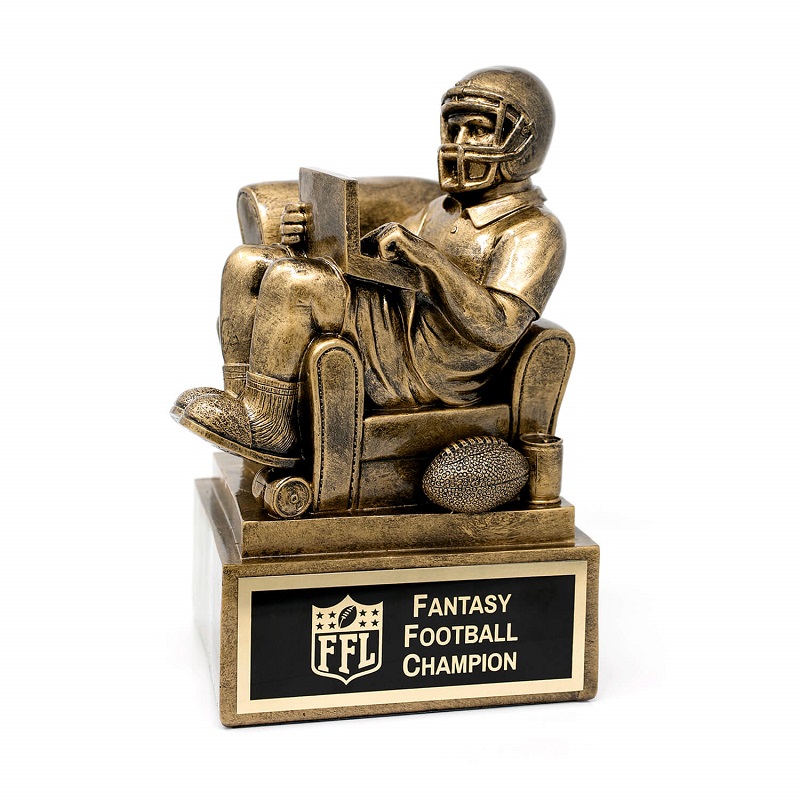 The Armchair Champions Trophy by Fantasy Champs
The Armchair Champions Trophy is for those who are looking for a trophy full of character, showcasing the fantastic athletic skill that it takes to be the best at Fantasy Football. There are engraving options that allow you even to add your team's name and the year. Go ahead and check out the awesome The Armchair Champions Trophy HERE.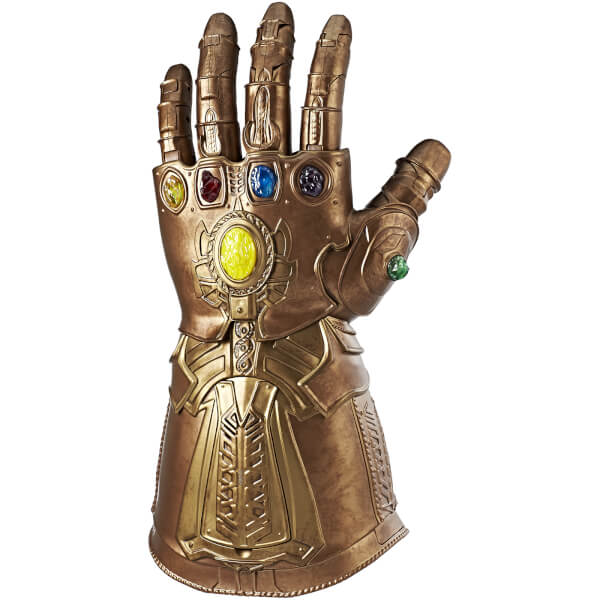 Marvel Legends Infinity Gauntlet by Hasbro
Add balance to your Fantasy Football League with the snap of a finger. Inspired by the movie, this Infinity Gauntlet from the Marvel Legends Series features premium design and styling, as well as intricate detailing on the gauntlet and six light-up Infinity Stones. Features pulsating light effects, movie-inspired sounds, and individually articulated finger movement, as well as a fist-lock feature for display. Even if you don't use it as the official fantasy football league trophy, it would be a great purchase if you just dominated the league this season. If you're interested in the Infinity Gauntlet, check it out HERE.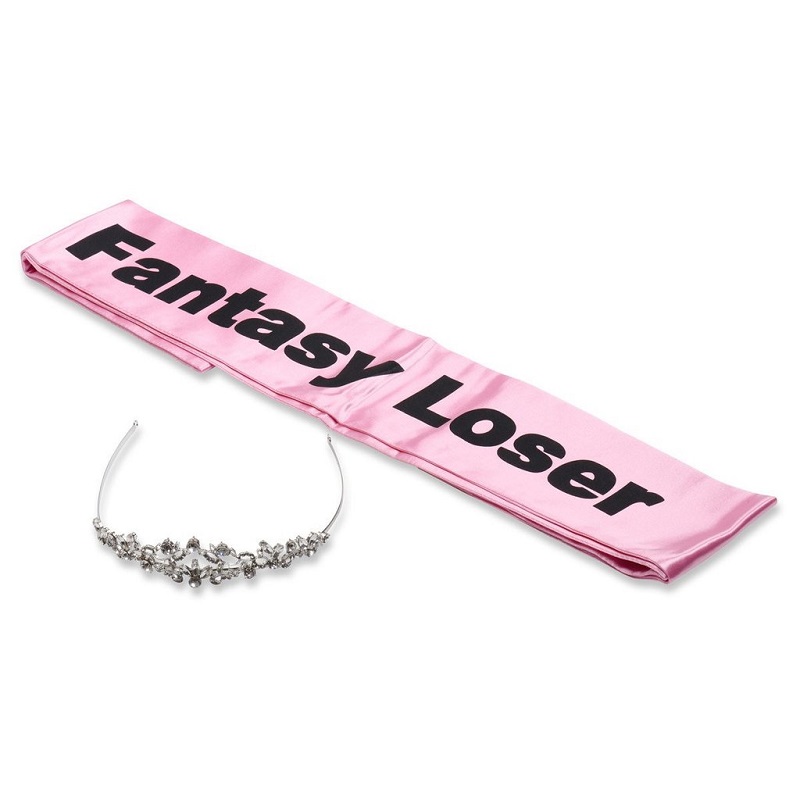 Miss Fantasy Loser Crown and Sash by Fantasy Jocks
Nobody likes the guy who completely abandons his team mid-season. Even worse, the guy who gives up and starts trading away 1st round draft pick players. Put an end to that with this last place trophy from Fantasy Jocks. A night of fetching drinks while wearing this little number should hopefully motivate your league loser to bring their "A" game next season. You can purchase The Miss Fantasy Loser trophy HERE
Dec 6th 2018